F-1 OPT (Optional Practical Training) During Your Degree Program
Are you looking to gain practical experience during your time as a student? OPT (Optional Practical Training) is the most common way students in F-1 status obtain permission to work.



Upcoming Workshop
Don't miss out -- an ISSO advisor will be on-campus to discuss eligibility requirements and application procedures for F-1 OPT employment authorization during the summer for undergraduate students continuing in the fall.
Wednesday, February 21 from 3:30 -4:30 in 505 Lerner Lounge

What is OPT?
OPT (Optional Practical Training) is a benefit of F-1 student status that allows you to work off-campus in your field of study to gain practical experience.

✓

You must be in F-1 status and in the U.S. at the time of application.

✓

You are enrolled in a degree or qualifying certificate program for at least one academic year (two consecutive semesters) in a lawful status.

✓

You have not used all 12 months of OPT at the same degree level.

If it's on-campus, you don't need to apply for OPT. Your F1 status allows you to work on-campus, whether it's related to your field of study or not, and is not deducted from the time you're allowed to work under OPT. Review our information on On-Campus Employment.
You do not need a job offer to apply but if you don't work you lose the time authorized for employment.
You may use OPT during and/or after your degree program if it is longer than one academic year (2 semesters). OPT during your program is referred to as Pre-Completion OPT.
OPT during the academic year is limited to part-time (20 hours or less per week).

OPT during a summer vacation period may be part-time or full-time (more than 20 hours per week), but you must specify which one.
You get 12 months of OPT for each higher degree level you complete (Bachelor's, Master's, and PhD Degree).
If you're a student in in certain STEM fields (Science, Technology, Engineering, and Math), you may be eligible for an extension of OPT for an additional 24 months.
Pre-Completion OPT is deducted from the 12 month total at graduation. 
For example: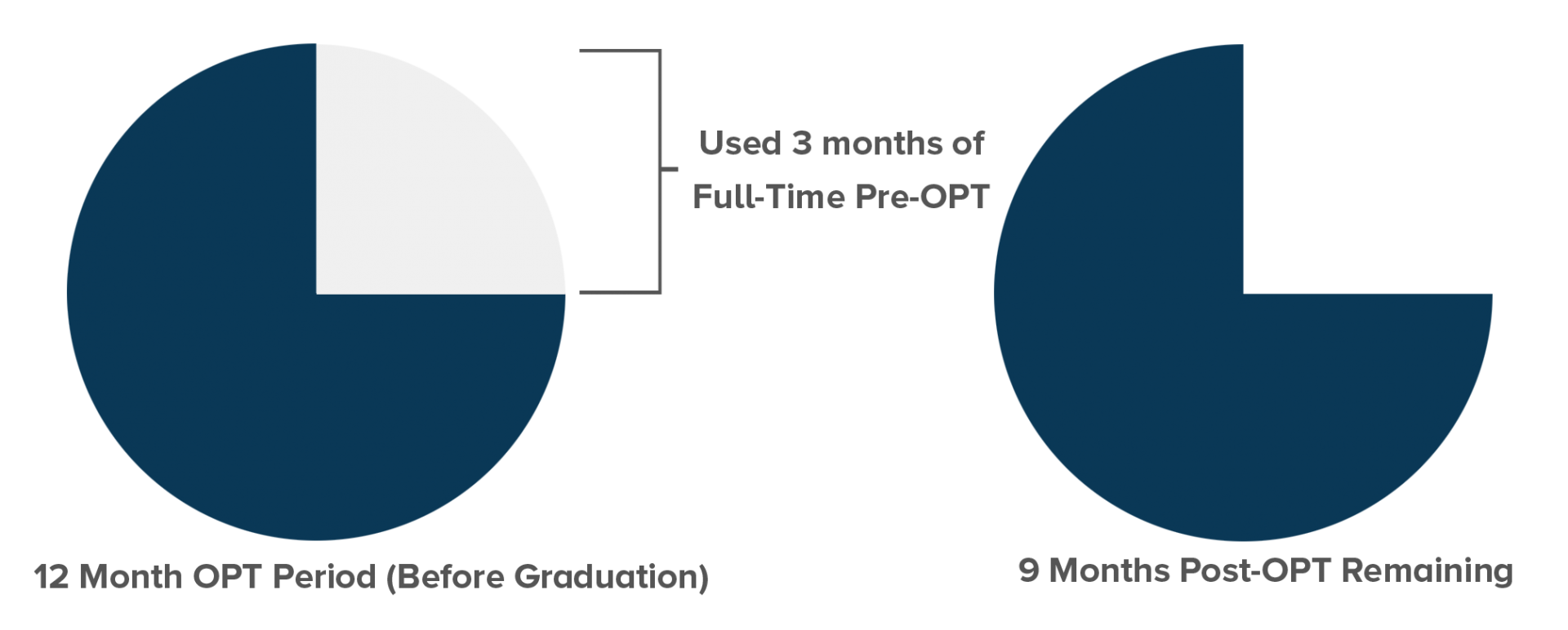 Part-time OPT is deducted at half the rate. 
For example:
The earliest you may apply for pre-completion OPT is 90 days before your requested OPT start date. We encourage you to apply to the ISSO as early as possible for the OPT I-20 because it is part of the OPT application you will send to the government. 


How to Apply
Overview
Obtaining OPT employment authorization is a two-part application:
Part 1. Submit an online application to the ISSO to obtain a new I-20 with the OPT recommendation printed on it.
Part 2. Send your OPT application with fee to the immigration agency USCIS (Citizenship and Immigration Services). It may take USCIS three months (or maybe more) to process your OPT authorization, so you need to plan ahead--and mail the complete application as soon as possible.
Process


Gather your documents and information
1.

Document

I-765 Application for Employment Authorization

Description
2.

Document

Most recent I-94 arrival record

Description

This must show your most recent arrival in F-1 status admitted until "D/S"
3.

Document

Copies of any previous EAD cards

Description

Only if you applied for OPT before
4.

Document

Your requested OPT start and end dates.

Description

Once submitted, these dates cannot be changed.
1.

Document

Notes

Put this form on the top of your application. This allows USCIS to notify you (via email or text) when they accept your application.
2.

Document

Completed Form I-765

Notes

Completed form I-765 signed in blue ink. Send the original with signature, not a photocopy. NOTE: Only this latest version of the form (dated 7/17/2017 on bottom left) will be accepted by USCIS as of December 4, 2017.
3.

Document

Required $410 fee

Notes

This must be made payable to the Department of Homeland Security by:

Personal check (write "USCIS I-765" in the memo line). Learn how to write a check.
A bank check
Money order (this is more difficult to track than a check)

 
4.

Document

Form G-1450 Authorization for Credit Card Transaction

Notes

This is an optional form if you are paying the required fee by credit card. Type your information into the fillable form.
5.

Document

Photocopies of all pages of all I-20s since you first entered in F-1 status

Notes

All your I-20s starting from the one marked "initial attendance".
6.

Document

Photocopy of your unexpired passport ID page

Notes

Your passport must be valid 6 months into the future.
7.

Document

Photocopy of your most recent F-1 entry visa

Notes

 

Canadians are exempt.
If you changed your status to F-1 in the U.S. and you don't have a visa, include your change of status approval notice.

 
8.

Document

Most recent I-94 arrival record printed

Notes

Access your records here.
9.

Document

Photocopy of both sides of any previously issued EAD cards

Notes

   
10.

Document

Two U.S. passport style photos

Notes

For photo standards, visit the Department of State website. Other tips:

Photos should not be more than 30 days old when the application is filed. Do not submit the same photo used for your passport or visa
We recommend that you write your name on the back of each picture in pencil.
Passport photos can be taken at The UPS Store, 603 West 115th Street and 42 Tiemann Pl. (equivalent to W. 124th St.)

 

Submit your application by logging into Compass with your UNI and password
Please click the appropriate link below:

We will contact you
Allow up to 10 business days for us to review and process your application. We will notify you by email when your new I-20 with OPT recommendation is ready to be picked up.

Review, sign and date your new OPT I-20
Use it when you travel. The travel signature on page 2 is valid for 12 months or until your program end date, whichever is earlier. Keep all previously issued I-20s.  You may need them in the future.
Mail your OPT application to USCIS via FedEx or UPS
Send the correct documents
Send the documents (the USCIS Document Checklist) as listed in Step 1 above.
Send it on time
USCIS must receive your application within 30 days after the date the Pre-Compleion OPT I-20 was issued. If it received later, your application will be denied by USCIS, and your $410 fee will be not returned or refunded to you.
Be sure your address on the I-765 will be valid for four months after mailing
Government mail is not forwarded to another address. If you change your address during the processing time, there is a way to update USCIS online using the USCIS Change of Address site but we cannot guarantee its efficacy.
Sign all forms with blue ink
Make sure all your forms are signed! Your application will be rejected if you don't sign your I-20, check, or I-765 form.
Make a copy of your entire application for your records
To avoid mailing problems, send your application by FedEx or UPS to the appropriate USCIS Lockbox facilities.
Most Common Address
If you list a mailing address on the I-765 in: Alabama, Arkansas, Connecticut, Delaware, District of Columbia, Florida, Georgia, Kentucky, Louisiana, Maine, Maryland, Massachusetts, Mississippi, New Hampshire, New Jersey, New Mexico, New York, North Carolina, Pennsylvania, Puerto Rico, Rhode Island, South Carolina, Oklahoma, Tennessee, Texas, Vermont, Virginia, U.S. Virgin Islands, or West Virginia, send your application to the Dallas lockbox:

USCIS, Attn: AOS
2501 S. State Hwy. 121 Business Suite 400
Lewisville, TX 75067
Less Common Address
If you live in: Alaska, Arizona, California, Colorado, Hawaii, Idaho, Illinois, Indiana, Iowa, Kansas, Michigan, Minnesota, Missouri, Montana, Nebraska, Nevada, North Dakota, Ohio, Oregon, South Dakota, Utah, Washington, Wisconsin, Wyoming, Guam, or the Northern Mariana Islands, send your application to the Phoenix lockbox:

USCIS, Attn: AOS
1820 E. Skyharbor Circle S, Suite 100
Phoenix, AZ 85034

Receive Employment Authorization Document (EAD) Card
You can start working once you have your EAD card in hand and the start date has arrived. Review the card for accuracy.
The OPT start date on your EAD card will be the date you requested or the date the EAD is processed, whichever is later.
Documents
You will normally receive up to three documents from USCIS:
Receipt notice
Approval notice
EAD Card
Request for Evidence (RFE)
Contact us if you receive any other notice, such as a Request for Evidence (RFE), from USCIS.
Timeline
Review the timeline below for more detail:


After You Receive the EAD Card
If you do not already have an SSN, you are now eligible to apply on or after the start date on your EAD card.
You may need them in the future to document your employment history and compliance with U.S. immigration regulations, or for future immigration or visa applications.

Pre-Completion OPT Travel Question
Yes, since you are currently enrolled and will return to the U.S. as a continuing student before the end of your program, your OPT application has no impact on your travel. It makes no difference whether the OPT application is pending or has already been approved--the OPT application is irrelevant.