F-1 OPT (Optional Practical Training) During Your Degree Program
Are you looking to gain practical experience during your time as a student? OPT (Optional Practical Training) is the most common way students in F-1 status obtain permission to work.


If you mail your application on or before October 1, 2020:
Be sure that your I-765 is the August 25th edition. The date (08/25/2020) is printed on the lower left corner of the I-765. The fee will be $410.
If you mail your application on or after October 2, 2020:
Be sure that your I-765 is the October 2nd edition. The date (10/02/2020) is printed on the lower left corner of the I-765. The fee will increase to $550.


What is OPT?
OPT (Optional Practical Training) is a benefit of F-1 student status that allows you to work off-campus in your field of study to gain practical experience.

✓

You must be in F-1 status at the time of application.

✓

You are enrolled in a degree or qualifying certificate program for at least one academic year (two consecutive semesters) in a lawful status.

✓

You have not used all 12 months of OPT at the same degree level.

If it's on-campus, you don't need to apply for OPT. Your F1 status allows you to work on-campus, whether it's related to your field of study or not, and is not deducted from the time you're allowed to work under OPT. Review our information on On-Campus Employment.
You do not need a job offer to apply but if you don't work you lose the time authorized for employment.
You may use OPT during and/or after your degree program if it is longer than one academic year (2 semesters). OPT during your program is referred to as Pre-Completion OPT.
OPT during the academic year is limited to part-time (20 hours or less per week).

OPT during a summer vacation period may be part-time or full-time (more than 20 hours per week), but you must specify which one.
You get 12 months of OPT for each higher degree level you complete (Bachelor's, Master's, and PhD Degree).
If you're a student in in certain STEM fields (Science, Technology, Engineering, and Math), you may be eligible for an extension of OPT for an additional 24 months.
Pre-Completion OPT is deducted from the 12 month total at graduation. 
For example: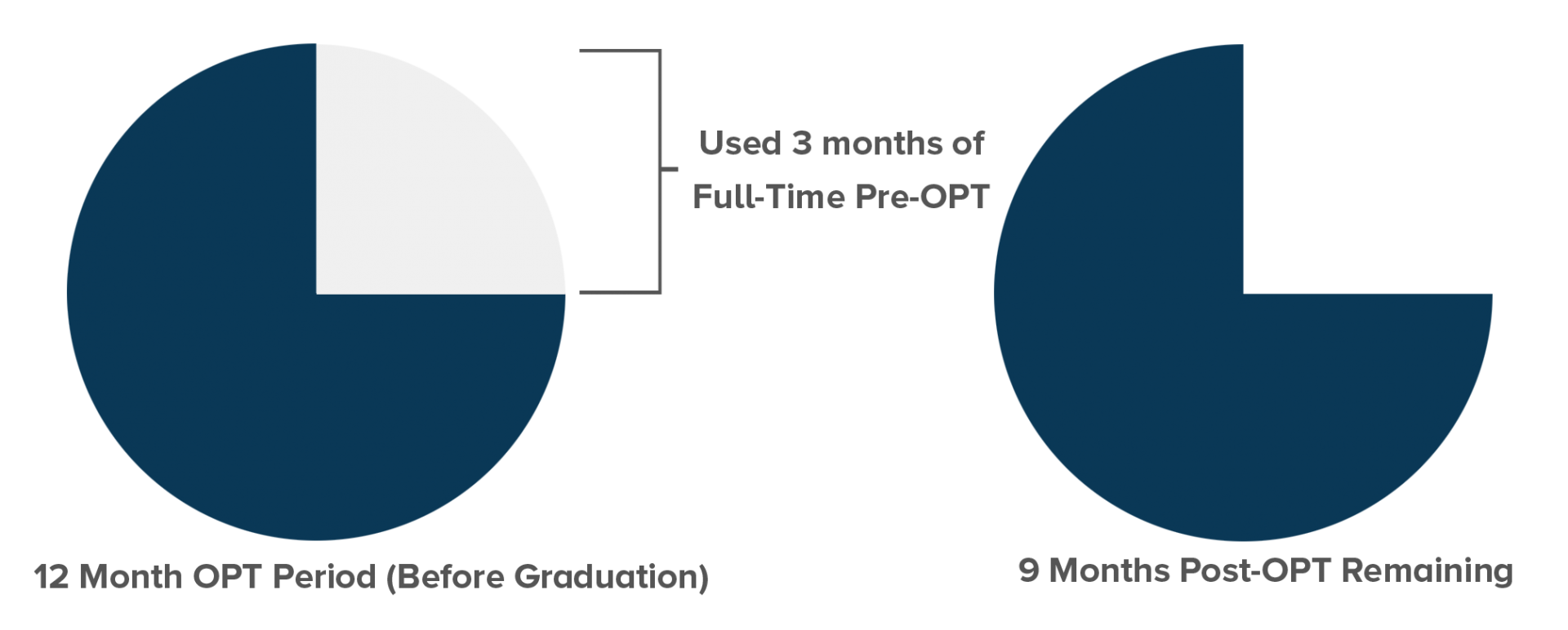 Part-time OPT is deducted at half the rate. 
For example:
The earliest you may apply for pre-completion OPT is 90 days before your requested OPT start date. We encourage you to apply to the ISSO as early as possible for the OPT I-20 because it is part of the OPT application you will send to the government. 


How to Apply
Overview
Obtaining OPT employment authorization is a two-part application:
Part 1. Submit an online application to the ISSO to obtain a new I-20 with the OPT recommendation printed on it.
Part 2. Send your OPT application with fee to the immigration agency USCIS (Citizenship and Immigration Services). It may take USCIS three months (or maybe more) to process your OPT authorization, so you need to plan ahead--and mail the complete application as soon as possible.
Process


Gather your documents and information
These are the documents you will upload when you login to Compass to submit your application for the OPT I-20.
1.

Use our sample form as a guide to complete your I-765 Application for Employment Authorization. Always download the I-765 from this USCIS link for the current version. USCIS will reject applications with older versions of the I-765. When you're finished, print and sign with dark blue or black ink. Do not upload an editable PDF to the ISSO. You must upload a scanned version of the hard copy document.

2.

Copy of your most recent I-94 arrival record (not your travel history), which is evidence of F-1 status. Make sure the record indicates you were admitted until "D/S."

3.

Copies of EAD cards from previous OPT applications, if any

4.

Your requested OPT start and end dates. Choose your dates carefully because any OPT time used during your program is deducted from the amount of time you have left when you graduate. You cannot apply more than 90 days in advance of your requested OPT start date, and your requested dates for an OPT I-20 cannot be changed.

Log in to Compass with your UNI and password to submit your application
Please click the appropriate link below:

We will contact you
Allow up to 10 business days for us to review and process your application. We will notify you by email when your new I-20 with OPT recommendation is ready to be picked up.

Receive your OPT I-20
Review page 2 to verify your requested OPT dates, then sign and date page 1. Always use your most recent I-20 when you travel. The travel signature on page 2 is valid for 12 months or until your program end date, whichever is earlier. Keep all previously issued I-20s. You may need them in the future.
Mail your complete OPT application with fee to USCIS via FedEx or UPS
** Be very careful that your application is complete before you mail it! USCIS can deny your application if it's missing any required documentation without sending you an RFE (Request for Evidence) Read more.
Want a printable version? Download our USCIS Application Checklist.
1.

Two U.S. passport style photos using standards from the Department of State website and be aware that [1] photos cannot be more than 30 days old when you send the application and [2] you should write your name on the back of each photo in pencil. [3] You can take your photos at UPS Stores (603 West 115th Street & 42 Tiemann Place), among other places.

2.

$410 USCIS fee (Fee to $550 effective October 2, 2020). Pay with personal check from a U.S. checking account, cashier's check from a bank, or money order, payable to the "U.S. Department of Homeland Security." Write "USCIS I-765" in the memo line (use our sample personal check as a guide). We do not recommend using the Credit Card form G-1450 due to reported issues.

3

Form G-1145 to allow USCIS to notify you when they accept your application (not a copy)

4.

Form I-765 (completed from your ISSO OPT I-20 application), signed in dark blue or black ink only (not a copy). Must include all pages of I-765, even if pages are blank. If mailing your application on or after August 25, 2020, check that your I-765 is the August 25th edition. Date is on bottom left corner of the I-765. Earlier versions will not be accepted.

5.

A copy of your signed and dated OPT I-20. Please be sure to sign and date your I-20. Send a copy, not the original which you can use for Travel During OPT.

6.

Copies of all previously-issued I-20(s). If you have lost any I-20s, please include a short explanation. You may edit this sample letter.

7

Copy of your current Passport Identification page (valid 6 months into the future).

8.

Copy of your most recent F-1 entry visa (Canadians are exempt). If you changed your status to F-1 in the U.S. and don't have a visa, include your Change of Status approval notice.

9.

Copy of your most recent I-94 Arrival Record (click "Get Most Recent I-94" at i94.cbp.dhs.gov).

10.

Photocopy of both sides of any previously issued EAD card(s). If you have lost any EAD(s) and you do not have copies, please include a short explanation. You may edit this lost I-20 sample letter for missing EAD(s).

11.

Copy of official transcript
Send all the required documents! 
Use the checklist to make sure you send everything you need as instructed.
Send it on time
Send your complete application to the correct USCIS address:
1) no earlier than 90 days before your requested start date, and
2) in time for the USCIS to receive it within 30 days after the date your Pre-Completion OPT I-20 was issued. If USCIS receives it outside this timeframe, they will deny your OPT application, without returning or refunding your USCIS fee. 
Be sure your address on the I-765 will be valid for four months after mailing
Government mail is not forwarded to another address. If you change your address during the processing time, you can use the USCIS Change of Address site but we cannot guarantee its efficacy.
Sign all forms with dark blue or black ink
Make sure all your forms are signed! Your application will be rejected if you don't sign your I-20, I-765 form, credit card authorization form or check.
Make a copy of your entire application for your records
You may need a paper or scanned copy in the future.
UEMS Discount Shipping Option
UEMS (also known as eShip Global) offers discounted rates to ship your OPT application to USCIS by FedEx, UPS, or USPS. Follow eShipGlobal instructions to get your shipping label.
Use the USCIS address that corresponds to the state on your U.S. mailing address listed on the I-765 OPT application. To avoid mailing problems, send your application by FedEx or UPS to the correct USCIS Lockbox facilities.
Dallas Lockbox States
If you list a mailing address on the I-765 in: Alabama, Arkansas, Connecticut, Delaware, District of Columbia, Florida, Georgia, Kentucky, Louisiana, Maine, Maryland, Massachusetts, Mississippi, New Hampshire, New Jersey, New Mexico, New York, North Carolina, Pennsylvania, Puerto Rico, Rhode Island, South Carolina, Oklahoma, Tennessee, Texas, Vermont, Virginia, U.S. Virgin Islands, or West Virginia, send your application to the Dallas lockbox:

USCIS, Attn: NFB AOS
2501 S. State Hwy. 121 Business Suite 400
Lewisville, TX 75067
Phoenix Lockbox States
If you list a mailing address on the I-765 in: Alaska, Arizona, California, Colorado, Hawaii, Idaho, Illinois, Indiana, Iowa, Kansas, Michigan, Minnesota, Missouri, Montana, Nebraska, Nevada, North Dakota, Ohio, Oregon, South Dakota, Utah, Washington, Wisconsin, Wyoming, Guam, or the Northern Mariana Islands, send your application to the Phoenix lockbox:

USCIS, Attn: NFB AOS
1820 E. Skyharbor Circle S, Suite 100
Phoenix, AZ 85034
The USCIS processing time of OPT applications can vary. According to USCIS Case Processing Times, it can take 3 - 5 months. Unfortunately, they are not required to adjudicate OPT applications within a specific timeline, nor is there a way for the ISSO to inquire about pending cases. We understand that the waiting period can be very difficult.
We recommend the following actions:
Track your case status by using your receipt number on USCIS Case Status Online.

Sign up for a USCIS account to receive updates and submit inquiries for  individualized responses to your case through a USCIS account.

Track your EAD card delivery by signing up for a  USPS informed delivery account.

Enter your information in the USCIS E-Request online "Case Outside Normal Processing Time" option, but you may receive a standard response if you are within the 5-month window.  

Contact the ISSO if you receive a Request For Evidence, Denial Notice or if your OPT application has been pending for 5 months. To calculate USCIS processing time, refer to the receipted date located on the upper left corner of your I-797 receipt notice.

Speak with your prospective employer early in the process to inform them of USCIS processing times or updates.  

Normally, you will receive 2 documents from USCIS before the EAD. You do not need to contact us when you receive these two documents. 
1.   I-797 Receipt Notice with a case number. Important to check for accuracy in case there's an error in your name or other information that needs to be corrected. 
2.   I-797 Approval Notice. The EAD card is mailed separately. 
However, contact us immediately for assistance if:
your application is returned to you with instructions to resubmit
you see errors in your I-797 receipt notice 
you receive a Request for Further Evidence (RFE)
you see an error on your approval notice or on your EAD
you receive a Denial Notice
you realize you have made a mistake on your application or failed to include required document(s) even if you have not yet heard from USCIS

After You Receive the EAD Card

If you do not already have an SSN, you are now eligible to apply on or after the start date on your EAD card.
You should have already made a copy of your application materials before sending to USCIS. Now add a copy of the EAD. You may need them for future immigration or visa applications.

Travel During Pre-Completion OPT
Since you are currently enrolled and will return to the U.S. as a continuing student before the program end date on your I-20, your OPT application has no impact on your travel. It makes no difference whether the OPT application is pending or has already been approved. You need the usual documents that an F-1 student needs to return from a trip abroad. See our Documents Needed to Travel page for F-1 students.