What is OPT?
OPT (Optional Practical Training) is a benefit of F-1 student status that allows you to work off-campus in your field of study to gain practical experience.
Before You Apply
You may use OPT during and/or after your degree program if it is longer than one academic year (2 semesters). OPT during your program is referred to as Pre-Completion OPT.
Part 1. Submit an online application to the ISSO to obtain a new I-20 with the OPT recommendation printed on it.
Part 2. Submit your OPT application with fee to USCIS (Citizenship and Immigration Services). It may take USCIS three months (or maybe more) to process your EAD (Employment Authorization Document), so you need to plan ahead--and apply as soon as possible. See "When to Apply" below.
By regulation, the earliest you may apply for pre-completion OPT is 90 days before your requested OPT start date. We recommend requesting a start date a few weeks earlier than the actual date you want to begin employment because of the unpredictable processing time of the EAD by USCIS. An earlier submission and an earlier approved start date builds in more time for any delay. 
We encourage you to apply to the ISSO as early as possible for the OPT I-20 because you need it for the OPT application you will submit to USCIS. 

F-1 regulations require you to be in the U.S. in F-1 status at the time you apply for OPT. Your  most recent I-94 admission record is among the required documentation.
You get 12 months of OPT for each higher degree level you complete (Bachelor's, Master's, and PhD Degree).
If you're a student in in certain STEM fields (Science, Technology, Engineering, and Math), you may be eligible for an extension of OPT for an additional 24 months.
Pre-Completion OPT is deducted from the 12 month total at graduation. 
For example: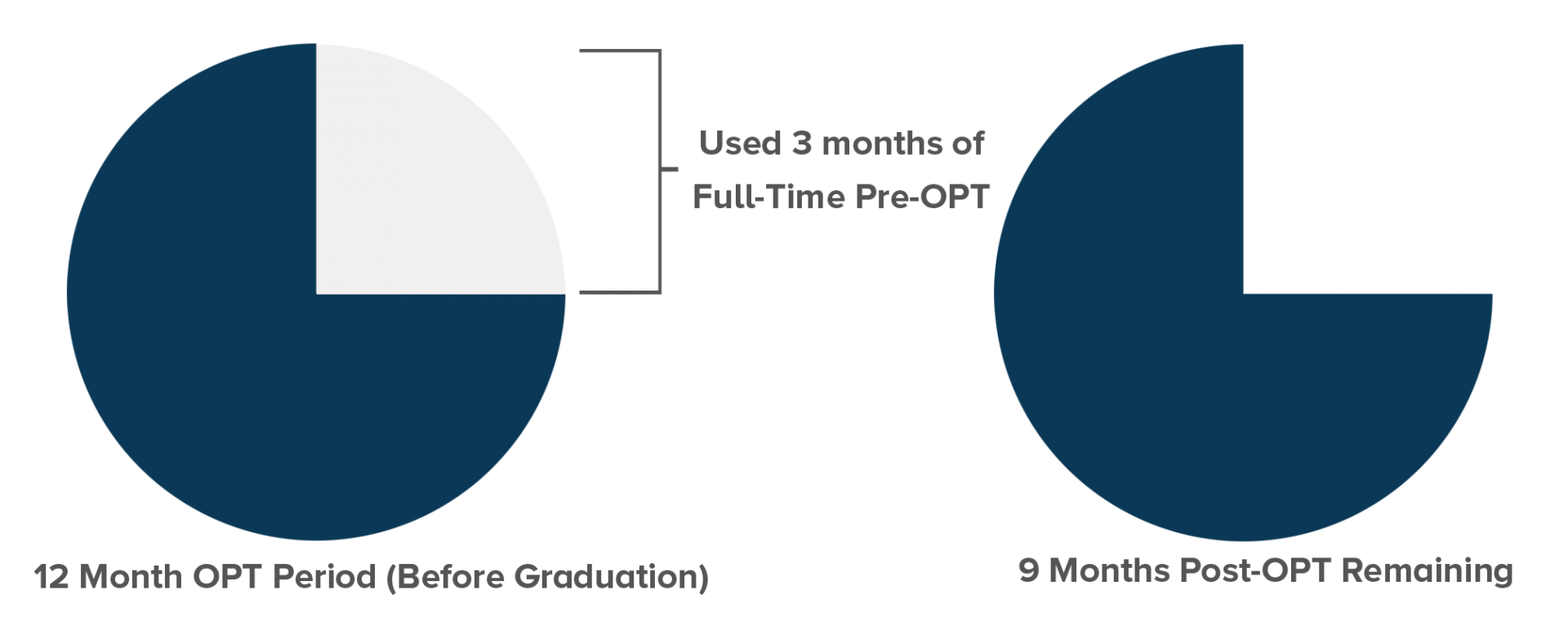 Part-time OPT is deducted at half the rate. 
For example: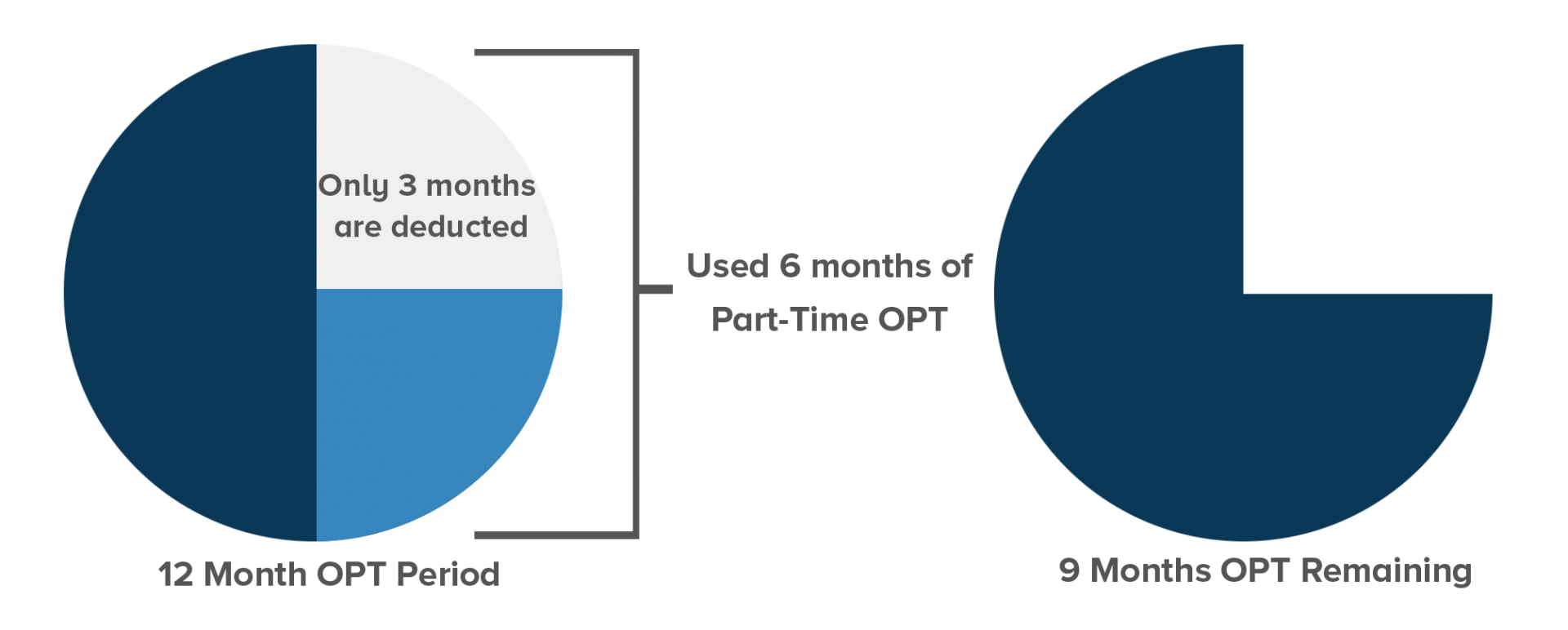 If you find on-campus employment, you don't need to apply for OPT. Your F1 status allows you to work on-campus, regardless of whether it's related to your field of study, and is not deducted from the time you're allowed to work under OPT. Review our information on On-Campus Employment.
You do not need a job offer to apply for OPT but if you don't work you forfeit the authorized OPT time.
Part-Time is 20 hours or fewer per week. You are limited to part-time hours during the fall and/or spring term.
You are also limited to part-time during the summer if:
your program has a required summer term OR
summer is your final term 
Full-Time is more than 20 hours per week. You may be full-time during the summer vacation period only if you will be continuing in the fall and summer is not a required term.
OPT is work authorization in the U.S. for a U.S. based employer.  That being said, we have seen U.S. employers allow or require for F-1 OPT students to work remotely. If traveling internationally while working remotely, entry into the US is always up to Customs and Border Protection. As such, ensure you consider that the longer you are outside the U.S., the more scrutinized your entry may potentially be. 
After You Submit Your OPT Application
Follow USCIS guidelines for tracking EAD card delivery. Monitor your application status via your USCIS account and sign up for USPS informed delivery to track the delivery of your documents.
Normally, you will receive 2 updates from USCIS before the EAD. You do not need to contact us when you receive these two updates. If you receive other communication that requires follow up, contact the ISSO for assistance.
1.   I-797 Receipt Notice with a case number. You will receive a case number immediately after submitting the online application.Check for accuracy in case there's an error in your name or other information that needs to be corrected.
2.   I-797 Approval Notice
USCIS Processing Time and EAD Delivery FAQs
The USCIS processing time of OPT applications can vary. Check USCIS Case Processing Times to find out how long I-765 applications are currently taking. 
If your case has been pending outside USCIS's listed case processing time for I-765 applications, submit an inquiry to USCIS via your online account.
Unfortunately, it is not possible to know exactly when your OPT application will be approved, and you need the EAD in hand to begin employment. You may need to be flexible in regard to your OPT start date.
Any activity that could be considered OPT employment cannot begin until you have your EAD card and are within the approved dates on the EAD card. You cannot work, paid or unpaid, for an employer until your EAD card arrives. Still job-hunting? Review the types of employment that are allowed for OPT.
Generally, USCIS will adjust the start date on your EAD card to the date that USCIS approved your OPT. 
Since you are currently enrolled and will return to the U.S. as a continuing student before the program end date on your I-20, your OPT application has no impact on your travel. It makes no difference whether the OPT application is pending or has already been approved. You need the usual documents that an F-1 student needs to return from a trip abroad. See our Documents Needed to Travel page for F-1 students.
Try one of these two methods:
Use USPS' Missing Mail and Lost Package Form to locate your envelope.
     
Visit your local US Post Office and ask them for detailed scanning information about where and when your package was scanned.
If USPS lost the EAD, attach a letter from the US Postal Service on official letterhead, stating that the USPS is responsible for the lost EAD, including the contact person from the US Post Office to send an email to the ISSO.
After You Receive Your EAD

You should have already made a copy of your application materials before submitting your application to USCIS. Now add a copy of the EAD. You may need them for future immigration or visa applications.
If you do not already have an SSN, you are now eligible to apply on or after the start date on your EAD card.