About Your Visa

What is a visa?
A U.S. visa is an entry document. You can apply for an entry visa only at a U.S. embassy or consulate outside the United States. It is placed on a page in your passport and certifies that the consular officer has found you eligible to apply for admission at a U.S. port of entry in a particular classification, such as F-1 student, J-1 research scholar, or H-1B assistant professor.
The CBP (Customs and Border Protection) officer makes the final decision on whether you are eligible to enter the U.S. with the visa and determines the length of time you may stay.

Things to know about a U.S. visa
The visa expiration date is the date until which you can re-enter the U.S. in the same classification with valid, unexpired supporting documents. The period of time you may remain in the U.S. is connected to the end of an academic program, or an authorized period of research or employment.
Your visa may expire while you're in the U.S.
If your visa expires while you are in the U.S. it has no effect whatsoever on your status. However, if your visa is expired when you leave the U.S. to travel abroad, you will need to renew your visa at a U.S. consulate or embassy to return in the same status.
The reciprocity agreements address both the duration and the number of entries that are allowed. A consular officer, after review of an individual's visa application, has discretion in the application of the reciprocity agreement. 

What to know more? Learn about the reciprocity agreements.
it is in an expired passport and you travel with both your expired and valid passports

it was issued for a previous school you attended and you travel with a Form I-20 or Form DS-2019 from Columbia

it was issued for a previous or concurrent employer and you travel with an approved petition from Columbia (H-1B; O-1)
After you have your passport replaced, you can apply for a new visa only at a U.S. consulate or embassy abroad.
If you have visited the U.S. for different purposes, you may have more than one visa in your passport. However, you can have only one status while you are in the United States. The visa which is used for your admission to the U.S. becomes the status you will hold.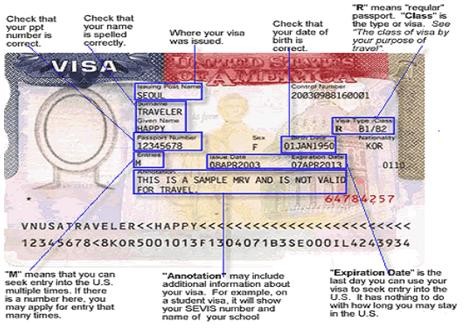 What is status?
One of the most common sources of confusion is the difference between your visa and your status. Your visa is an entry document. When you present your passport, visa and supporting documents at a U.S. port of entry, you are admitted in a nonimmigrant status that matches the classification of the visa in your passport. This is also referred to as "immigration status" or "visa status". 
The status in which you are admitted by a Customs and Border Protection (CBP) Officer is stamped in your passport and generates an electronic I-94 Arrival Record.
You may also obtain a new status in the U.S. through approval of a change of status application by USCIS.
Once you have obtained your status, you need to be aware of what you need to do---and not do-- to maintain your legal nonimmigrant status as a student or a scholar.