Scholar Sponsorship Portal (SSP) Department Guide
As an academic department administrator, you can use the Scholar Sponsorship Portal (SSP) to:

What's on This Page
How to Complete an Application



Application Alert

Do not submit or upload this application due to our planned Compass database migration. You will be able to submit applications again starting 12:00 PM Monday, March 13. We regret any inconvenience.

Who can use the SSP?
The SSP access can be granted only to full-time Columbia University staff. If you need to obtain access to the portal, contact our team.

Log into SSP with your UNI and password

SSP access can be granted only to full-time Columbia University staff. If you are unable to login and need access to the portal, contact us.

How to use the SSP Dashboard
Need help understanding the SSP interface? We've created this graphic to help you.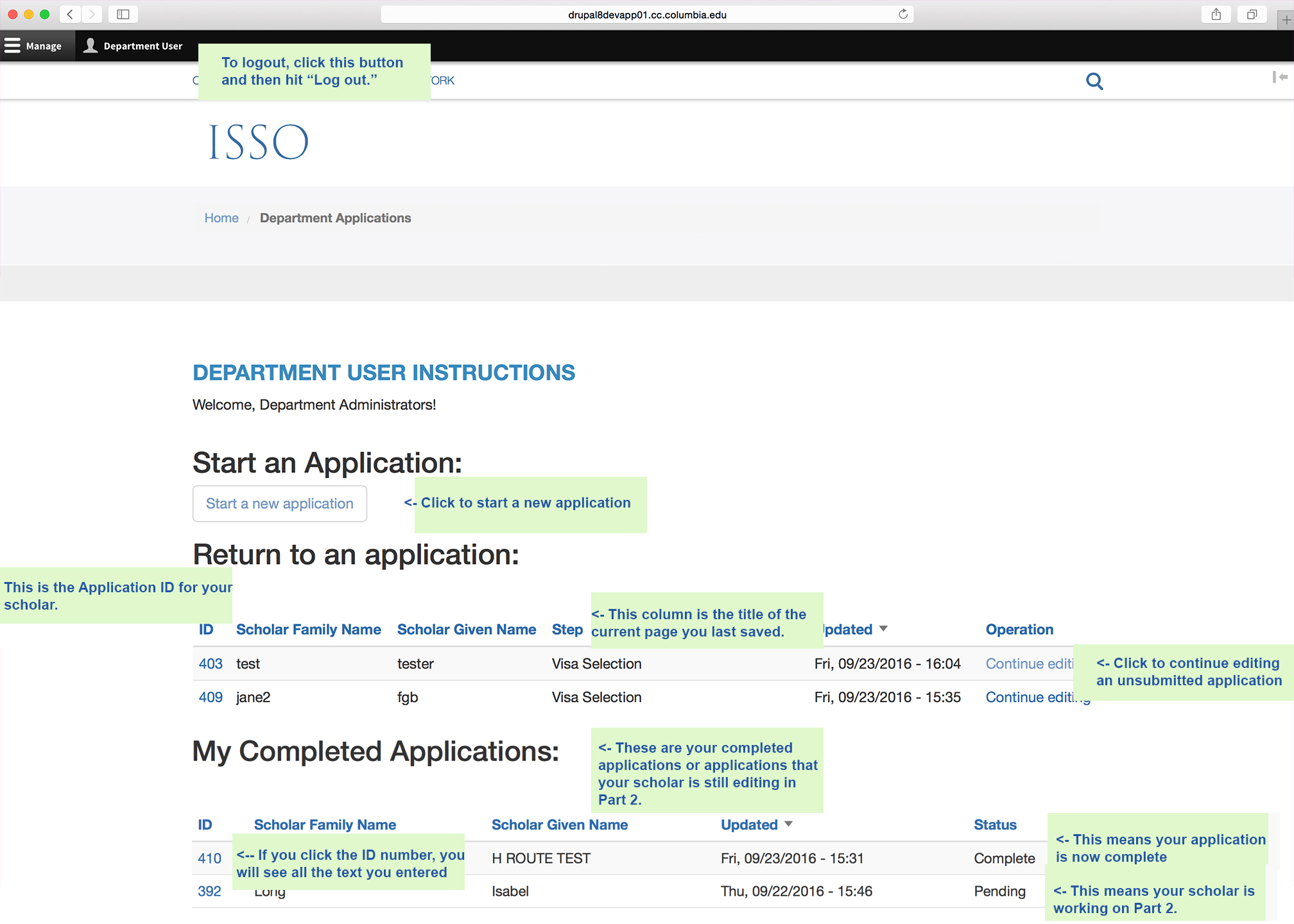 How to Complete an Application
Once you have logged into the form, you are ready to start your application.
Start a new application

To start a new application, click the "Start a new application" button.

Proceed with the application

You will be guided through a series of pages. Complete all the required fields and click on the "next" button to advance through the application. Click "clear" to clear all fields. Click "Save and Exit," to save the page you are on and exit the form to later return to to continue the application.

Submit the application

Your application will not be submitted until you hit the "Submit and Complete" button.

Upon submission, you will be given instructions for the next steps.

Some applications cannot be submitted until the completion of Part 3, so be sure to read the instructions.

Complete any additional requirements

How to Go Back and Edit a Page
Do you need to go back to edit something before submitting? Here's what you need to do.
Click the "Go Back and Edit" Button

Keep in mind that this will take you back to the first page of the part of the application you are in. Click "Next" until you get to the page you need to edit.

How to Save an Application
The SSP auto-saves each page after you complete it. Each time you click "next" to continue, you are also saving your application. 
Do you need to exit your application and save for later? No problem.
Click the "Save and Exit" button on the left of the menu on the bottom of the page.

When you hit this, you will be exited from the application at the current page you are on. When you are ready to continue, you will be led back to the last page you saved.

How to Continue Editing an Application
On the dashboard, go to the "Return to an application" section. Click the "continue editing" button under the "Operation" column on the far right.

Once you click "Continue editing" it will take you to the last page you were editing.

You may continue editing from there.

How to Print a Complete Application
Look under the "My Completed Applications" section of your dashboard.

To print a complete application, click the ID number of the application in the left column.

On this page, you can see and print all the data that was submitted.

Use your browser and go to "File" > "Print" or take a screenshot.

How to Review an Archived Application
Any application over 30 days old will be moved to "Archived Applications" on your dashboard. .
Click the "Archived Applications" button

On your "Home" dashboard, directly under "Return to a Recent Application," you will see a blue link titled "Archived Applications." 

Review your archived application(s)

If you have any archived applications (more than 30 days old), they will appear here.

Hit the person icon at the top left-hand of the page

Once you hit it, the "Log out" button will appear. Click it to be logged out of SSP.

FAQs (Frequently Asked Questions)
Yes. If your scholar needs to complete Part 2, you will be able to edit all of their fields if necessary.
When you continue editing the application in Part 3, you will be able to see all the editable fields that the scholar entered in Part 2. There, you will be able to edit and override anything the scholar entered if errors were made. 
Part 2 of the SSP is sent to J-1s and Visiting Scholars to complete. This form design has been based on feedback we received from department administrators who wish to redirect that data-entry component to the scholars themselves. In Part 3 the department administrator has the ability to review and edit all data (including data submitted by the scholar) which preserves the department's ownership and control over the application being submitted. 
In the event this structure does not serve your needs and you want complete an application on behalf of an unresponsive scholar, please contact Jane Acton for guidance on how this can be done.
Yes, before you click on "Submit and Complete". At the end of each part you will be able to have a final review to make sure all the information is correct. Review the information thoroughly and go back and edit if you find any mistakes.
Once you submit the complete application you will not be able to go back and edit anything. 
In the SSP, each application is assigned its own unique Application ID number.
Yes! We prepared an SSP scholar guide with login instructions. You may include this link in your communications. 

Online Webinar
Did you miss our SSP webinar? No problem -- we recorded it just for you! Watch it below: